ITM: Ingram wins OAP; Priour Best Actor
All right, i'm trying to compose this post in the wee morning after our return, and will add much more later
(update: am keeping this near the top though it was originally posted early a.m. Thursday, the 23rd; updates posted as late as Friday the 25th).
But for now, the Ingram Tom Moore High School One-Act Play of
The Crucible
advances to Area competition after the kids were smokin' flawless in their presentation tonight. Usual district winner, and several time state champion, Wimberley also advanced with their presentation of
The Beggar's Opera
, and Bandera finished third and will be the alternate with their rendition of
Much Ado About Nothing
. Jonah Priour was named Best Actor, Lillian Beaudoin was named to the All-Star cast, Wes Isenhower was named All-Star crew, and Cadi Hawkins was named Honorable Mention cast. A young lady who played Hester in Llano's
By the
Bog of Cats
was named Best Actress.
Congrats to Holly, Roy and Marie and all the wonderful kids (& their parents) for a superbly done work of art.
Area competition is at Wimberley, Saturday, April 9th.

The rest of the story:
Well, you won't get anyone officially involved in all this to say it out loud, but i believe that ITM won the contest outright. And i have a list of evidence for that, but i'll spare you.
Here's why it's important though:
The word's been for several years that Wimberley has such a strong program (and it does) that it is pretty much guaranteed a spot. That has been twisted all too often to suggest some sort of graft or dishonesty on the part of a number of judges. I don't, and never did, buy that.
The fact is, they are just very good. Extremely well directed, with a slew of dedicated thespians, and some credit has to be given to the money coming into their program. They also have a revolving repertoire of pieces that are superbly suited to the style and whims of the directors.
And so, on an annual basis, in this district they are expected to move on to Area competition. And in my time of watching this district that is exactly what they have done. I don't know how many times they've won state, but it must be several.
The immediate result is that everyone else in district is essentially fighting for that second spot. Which is to say for second place, even though scores as such are not released and until the state finals there is no "first".
Why it makes a difference here, for discussion's sake, is that i believe ITM outright won district, and it was Wimberley that was battling the other schools for that second spot. And seeing as how the judge liked Bandera's
Much Ado
it may have been a squeaky win for Wimberley.
In any case, they were not invulnerable. And now everyone knows.
That aside, let me talk briefly about the various entries, starting with ITM's.
The Crucible was dang near flawless. In rehearsal over the past few weeks, the crew had come in anywhere from 20 to 40 seconds under the 40 minute limit and it's been a source of much nervousness trying to get the piece in under that time (which otherwise could result in disqualification). After a long, apparently-good-times-had-by-all, spring break, the group came back and could not get under 40, sometimes coming in two or three minutes LONG.
So nerves shot up. But in performance, aided by impeccable cues and reactions and tremendous set changes the play came in at 37 plus, two minutes faster than ever.
Jonah Priour, usually just dynamite onstage, somehow found a whole other level for his John Proctor and was simply remarkable. Lillian Beaudoin hit every note, low and high, for her Abigail. Cadi Hawkins won a lot of hearts, most notably the judges.
Aaron Hutto, Whitney Wilson, John Ferguson, Gary Givens, Patrick Wade, Mindy Cox, Meggie Nidever, Allyson Widener, Jeff Widener, Anthony Goodman, Suzanne Attridge, Mikaela Lewis, everyone was just dead on. And the big win was proof. It could not have happened to a nicer, more deserving crew.
Among those deserving credit who often don't get it are the behind the scenes crew of Kevin Chipman, Garrett Brown, Dustin Ficker and award-winning stage manager Wes Isenhower. Congrats.
Wimberley's production was one of their cookie-cutter period pieces --
The Beggar's Opera
. They do these shows as non-stop masses of whirling dervishry. The dialogue is at lightning speed, pumped up and blasted out such that you never have time to catch your breath or gather your wits. They are delightful to watch, and exhausting (as the judge said) at the same time. I can't imagine sitting through a full production at this speed. In any case, they certainly do have something special going for them. Only at this meet high drama trumped tornadic comedy.
Bandera's
Much Ado About Nothing
was also a delight to watch. It was particularly fun for me to see as i'd been in a production of this very play with their director Roslyn Houghton at The Point Theatre, and i recognized much in the way of set, costumes and delivery. And yet she managed to raise it another level of farce. She also managed to make it understandable after the heavy cut needed to get it down to 40 minutes, and
Much Ado
is already a complex work. They'll be going as alternates to the next level.
Llano, with
By the Bog of Cats
, was actually my pick for alternate. This was a piece i'd never seen before and i was headily impressed both by the play and by the rendition Llano produced. Most impressive to me was the cast carrying a high Irish brogue and carrying it well throughout. The centerpiece of the play is Hester Swane, a semi-crazy woman of the bog, and she was adroitly handled by Chelsea Platt who won Best Actress for the portrayal. She was delightful. The rest of the cast was also very strong. I figured the dramatic strength, plus the overall strength of the cast would be enough for them to earn that third spot. But the judge (by way of his critique) knew the play, and hit them pretty hard for some things that those of us unfamiliar with the piece would not have known -- and that i believe was the difference. No matter, Bandera was an excellent choice, and if needed they'll make an excellent sub.
The other two pieces had their moments but suffered in different ways. Brady's
The Bad Seed
was a technical disaster -- someone seems to have missed out on some basics of stagecraft. However, there was no lack of either intensity or enthusiasm on the part of the kids. The Rhoda Penmark character was especially strong as the murderous bad seed of the title. Liberty Hill came up with
Rivers and Ravines
, an interesting static piece, lacking all but a modicum of props and no set pieces. Although it could be argued that it required a steady, droll delivery, having it come from all 15 characters made for a difficult 40 minutes of listening. Although by listening, it was easy to sink into the story and be fully enveloped by it the end. Where Brady lacked, it was technically near perfect, just boring.
Some pictures from the Llano Festival last week: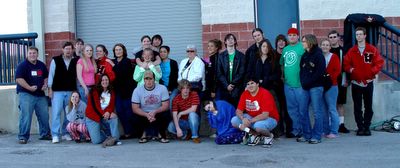 The whole crew!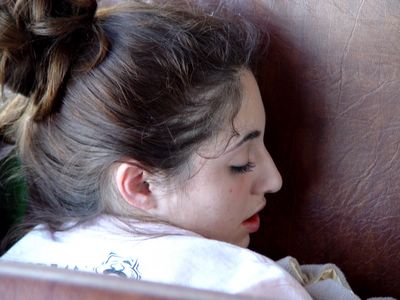 Meggie Nidever still using the morning the correct way . . .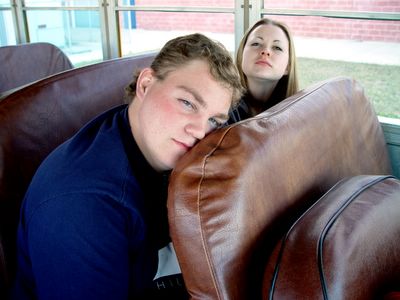 Aaron Hutto and Whitney Wilson just past making the
most of the morning . . .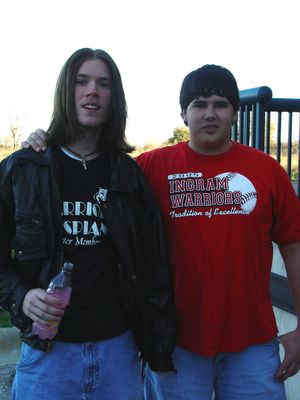 Jonah Priour (left), District 27 Best Actor! with Anthony Goodman.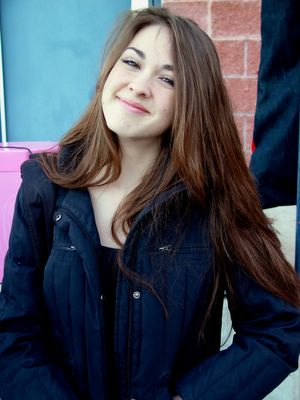 Lillian Beaudoin, District 27 All-Star Cast!