REV: Eifman Ballet
A Review from The New York Times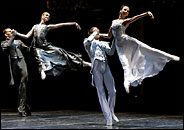 Photos by Hiroyuki Ito
A Triangle of Sex, Love and Anguish
By JOHN ROCKWELL, May 26, 2005
Boris Eifman is an acquired taste, at least for non-Russian audiences, and it seems fair to say that a lot of New York dance connoisseurs have not yet acquired it. They express their disdain by boycotting performances of the Eifman Ballet of St. Petersburg or by complaining about them if they do attend.
As a frequent lover of things Russian and of performances (those of the conductor Valery Gergiev come to mind) that strike more sober-minded sorts as sensationalist, I bring no bias to Mr. Eifman's work. Yes, an Eifman Ballet show I saw a couple of years ago seemed maudlin, and his "Musagète" for the New York City Ballet, a supposed homage to Balanchine (who was Russian in his training and upbringing), looked downright crude.
Still, I went on Tuesday night to see Mr. Eifman's latest work, "Anna Karenina," which plays with alternating casts at City Center for the rest of the week, with an open mind. Although Tolstoy's massive novel, with its plots and subplots and finely shaded characters, might seem a stretch for a two-hour ballet with intermission - other Russians, including Maya Plisetskaya and Aleksei Ratmansky, have taken a crack at it, too - its central grand passions are not unsuited to Mr. Eifman's insistently impassioned sensibility.
For him, above all, there is no Levin, with his tortured introspection about the meaning of life. No Oblonsky. Kitty (here, Kiti) is reduced to a supernumerary to fill out a quartet in the opening ball scene. It's all about the triangle of Anna, her tortured husband, Karenin, and her sexy lover, Vronsky.
That's it, except for several stiff, effortful ball scenes, one a Venetian number right out of "The Phantom of the Opera" but without the curving staircase. Anna's little son is seen playing with a locomotive at the outset and hurling himself into her arms when she's feeling guilty. The locomotive returns at the end of the first act, with falling snow, and again at the very end, with the entire corps playing out a Constructivist ballet version of a steam engine, all clanking and hissing and machinelike movement. Anna throws herself into the melee, not quite between the wheels of a train car as in the novel, but close enough.
Otherwise, though, it's all grand passion, all the time. Anna and Vronsky are instantly smitten and have several steamy sex duets. There are a lot of tricky lifts with extreme extensions. Anna and Karenin are anguished. She has some sort of hellish drug trip (not really the sort of thing one would expect from Tolstoy's Anna's soporific of choice, opium, but never mind).
Read the rest here . . .