ENV: Not-Really-a-Cat-Friday, 13 May 2005
Ought to be Black Cats today i suppose . . .
So, i thought today i'd introduce Mildred, since she's the closest thing i have to a cat. She's a Mountain Coatimundi,
Nasua nasua,
and a big part of our program last year. Her name comes from a character in "The Best Christmas Pageant Ever" who accidentally eats worms.
It's no accident for our Mildred.
Hers is basically a Central/South American species of jungle and montane woodland. They're diurnal, the opposite of their close relatives the Raccoons,
Procyon
sp
.
Their diet consists mostly of insects, which they find by burying that long snout under leaf litter, sticking it in crevices and flipping small stones and logs. They'll also eat fruit.
Mildred is an outdoors Coati, she roams wherever she wants and sleeps in a big Arizona Walnut tree, on top of the aviary, or on a windowsill at the office depending, i suppose, on where she finds herself.
She loves kids which is why i keep her around. The pictures below are from last summer's program at a time when she was still being bottlefed. She's now much larger, and when i have new pictures this summer i'll post them so you can see how she's grown.
Another species of Coati, the White-nosed Coatimundi,
Nasua narica,
ranges more northward, and formerly occurred in Texas but is apparently now extirpated. They still range into the southern mountains of New Mexico and Arizona -- in fact i have filmed one in Garden Canyon of the Huachuca Mountains.
Check out the
weekly Friday Ark
at
The Modulator!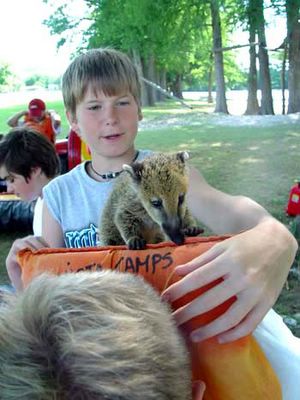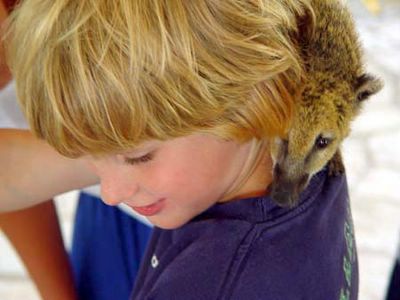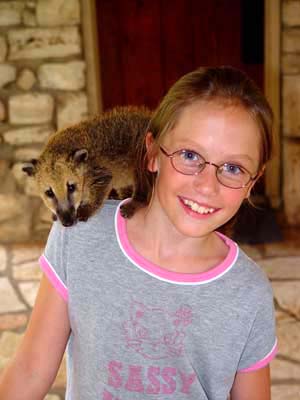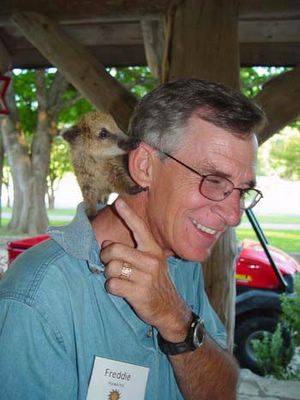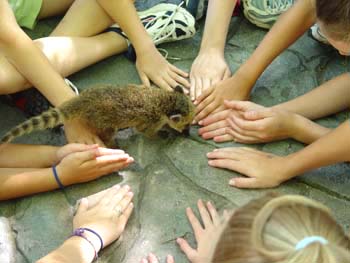 Mountain Coatimundi, Nasua nasua