REV: American Ballet Theatre
A review from The New York Times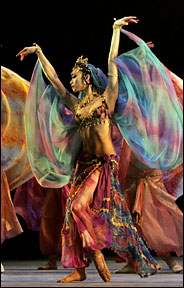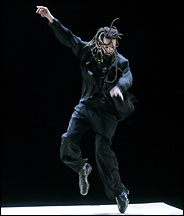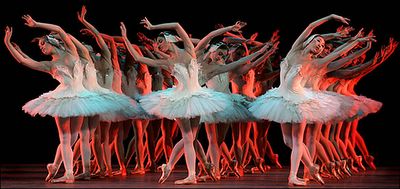 Photos by Sara Krulwich
Spectacles, on Tap and on Toe
By JOHN ROCKWELL, May 25, 2005
Ballet galas can mean two things: a showcase for profound artistry and a showcase for spectacular dancing. Sometimes the two are one. On Monday night American Ballet Theater gave itself a gala to open its 65th season and its annual run at the Metropolitan Opera House.
Art and spectacle didn't always coincide, but there was enough spectacle to keep almost everyone happy.
One novelty was the first New York performance of Frederic Franklin's staging of Fokine's version of the "Polovtsian Dances" from Borodin's opera "Prince Igor," a staging first seen in February at the Kennedy Center in Washington. Another was a "Pièce d'Occasion," as it was perhaps rather grandly titled, from Savion Glover.
The program opened with Fokine's "Spectre de la Rose," which will join the "Polovtsian Dances" as part of a Ballet Theater Fokine program starting June 16. As at City Center last fall but rather less intimately, given the scale of the Met, this ballet again starred Herman Cornejo in the Nijinsky part, along with Xiomara Reyes. Mr. Cornejo danced with his usual effortless athleticism and looked great, and Ms. Reyes filled her decorative role decoratively.
"Polovtsian Dances" is a slightly cheesy potboiler, full of faux-folkishness of the sort that appealed to Diaghilev's Paris audiences in thrall to primitive Slavs and Eurasians. Barbaric male dancers spin and pose heroically; belly dancers slither about seductively. (The leads, blending into the corps, were Gennadi Saveliev and Stella Abrera.) It looks like the place Igor Moiseyev got his moves.
Mr. Glover got his moves from somewhere else entirely: the whole tap tradition raised to a supercharged level. Sometimes he focuses dourly at the floor, tapping away; on Monday he beamed out at the audience, almost the extrovert.
He tapped to "Dance of the Comedians" from Smetana's opera "The Bartered Bride." As such his performance recalled "Classical Savion" in January at the Joyce Theater. But there he had an amplified orchestra with which he had tightly rehearsed. Here the tapping often drowned out the orchestra, and the synchronization wasn't as thrillingly exact. Still, he is a force of nature and was appreciated as such.
The program also included the Act II waltz and the pas de deux from "Swan Lake," danced with impressive control by Julie Kent with deferential partnering by Vladimir Malakhov; too bad he didn't get a chance to let loose.
At the end came a giddy "Don Quixote Suite," bits from the company's current version of that ballet, which will play through tomorrow. The bits, danced before a full, colorful set and the corps in Spanish costume, hopscotched about the scenario but were deftly knitted together.
Read the rest here . . .